7 Hostels You Can't Skip During a Year Abroad
Hostels are perfect for travellers on a budget and backpackers. Not only will you save money on accommodations, but you will be able to interact with other travellers much more easily than you would at a hotel or an AirBNB. You can also save even more money by buying groceries and cooking your own food, since most hostels have kitchens for you to use.
Here are some of the best and most unique hostels I have stayed at so far.
7. The ASH Hostel
The ASH was where I stayed when I visited Antwerp. Not really knowing much about what Antwerp had to offer, this hostel was centrally located which made wandering around the downtown core pretty convenient.
The ASH hostel is just down the road from a small grocery store, and the hostel has a very well equipped kitchen (they almost have too many dishes). There were two fridges, two stoves, two sinks. It was one of the more spacious kitchens I have encountered while staying in hostels.
The other great thing about the ASH is that there is a small courtyard with fake grass, which was perfect for doing stretching before running. The ASH, although downtown, is really close to Stadspark (City Park), which was great to run though.
6. J-Hoppers Osaka
I stayed in three places while in Japan: a capsule hotel in Tokyo, a ryokan hostel in Kyoto, and a typical hostel in Osaka. One of the things that makes J-Hoppers Osaka so great is that they emulate the "hostel" culture that backpackers have come to love and expect.
The team at J-Hoppers have lots of really cool activities planned. One night, they had Japanese students (who are learning English) come to the hostel to interact with the travellers staying there. Another night, the J-Hoppers team brought us out to Japanese-style pub and taught us some new Japanese words (like how to call a server).
It's easy to meet new people and make new friends at a hostel, but it's even easier when the hostel plans activities to bring everyone together.
5. Lagas Hostel, Bali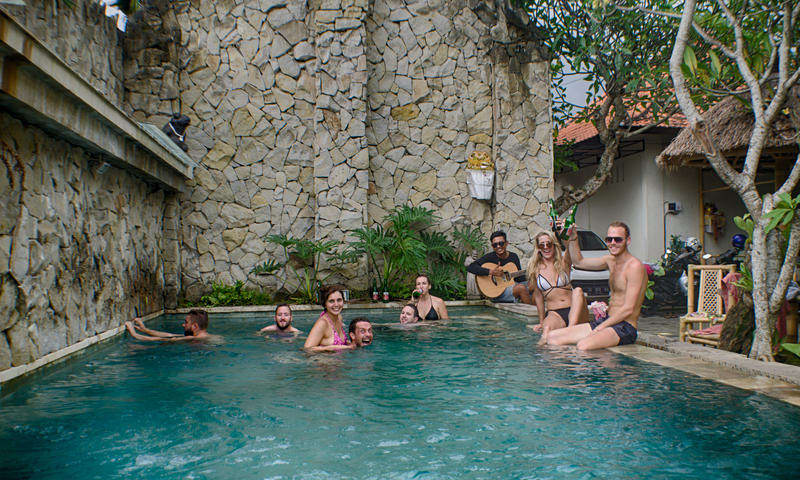 What initially drew me to Lagas Hostel in Ubud, Bali was the price. I rented a hostel bed (in a ten person room, with one bathroom) for $4 USD. That's right – $4USD a night!
In addition to being insanely cheap, the family who run this hostel were so sweet and helpful. Breakfast was included every morning, and it was one of the best "free breakfasts" I've received (including at hotels). When I was there, we had fresh cut fruit and pancakes made from bananas and condensed milk.
Despite being a smaller hostel, Lagas also had a small pool and garden area, a shrine, a dining area, and a lounge area (with a hammock). They also had very well-priced food to order which featured the amazing indonesian mie-goreng. The hostel is also about 10 minutes to central Ubud, which was also very convenient, and near several small fruit stands.
4. Pool Paradise Lima
Pool Paradise was an excellent (and incredibly spacious) hostel in the heart of Miraflores district of Lima. This hostel had a great pool and giant courtyard with a foose ball table, table tennis, and loung chairs. They were doing renovations to the courtyard when I was there in 2018, so it's likely that it looks even more different now.
The other really cool thing about this hostel was their bar. They had a huge drink menu, and drinks were reasonably priced. Everyday, they did a happy hour where you could order 2 pisco sours for a discounted price. I highly recommend you give pisco sours a try! A classic Peruvian drink.
3. Via Amsterdam
Via Amsterdam was, by far, the largest hostel I have stayed in. The building is a strange triangular shape – which makes is very easily seen from a distance since the Netherlands is so flat. I can't remember exactly how many floors the building had, but it must have been at least 5 or 6 floors of hostel bunk beds and private rooms.
The hostel room I stayed in was very spacious, with a great view of the outer Amsterdam neighbourhood of Diemen. The hostel had a really nice pub/lounge where you could order different traditional Dutch food (like bitterballen) and other European favourites. The bar featured a wide variety of booze too.
Another great thing about Via Amsterdam, aside from the general spaciousness of the facility, was they ran social activities in the pub/lounge. I got to show off my (terrible) karaoke voice after a few drinks. I'm not sure if this was a compliment or a gesture of "I feel bad", but the bartender gave me a free drink after I performed. Hahah.
2. Mosì Firenze
Mosì was the first hostel I ever stayed in. It has only four hostel beds (that I could tell) and a handful of private rooms. The staff at Mosì were very friendly and super helpful at providing suggestions on sights to see and places to eat. The uniquely designed hostel has gorgeous rooms and a professional kitchen with a beautiful courtyard, which I used to stretch after my daily run.
A couple of evenings a week, they would host an aperitivo (pre-dinner drink) with antipasti (small appetizers) to let the other guests interact and chat with each other.
While some might say the location of the hostel is not perfect, I argue otherwise! The majority of Florence (including most tourist activities) are located on the north side of the Arno river. This hostel is on the south side of the river. To get to the train station, it's about a 45 minutes walk from the hostel. However, Mosì is in an area of Florence with fewer tourists, fewer crowds, more parks, more authentic restaurants and stores, and a better view of the river. In this way, the location is better than most other hostels in Florence. Not to mention, it's about a 15-20 minute walk to the ponte vecchio. So, the hostel is still in Central Florence.
1. Cocoon City Hostel Chania
Hands down, Cocoon Hostel is the best hostel I've ever stayed in. Their customer service is amazing: the team really try to make a personal connection with each guest and to learn about their journey.
The facility is beautiful. The beds are extremely comfortable with lots of storage. The bathrooms are state of the art and plentiful. The kitchen has new appliances and ample room to eat and cook with a group. The common room also has lots of seats, a strong wifi connection, and a cocoon hammock – an icon of the hostel.
If you visit Chania, from what I heard, there are not many hostel options, so you will likely end up here. But 10/10 would recommend!